Is there a limit to how much cheese fondue we can handle?
Yes, and it's about 50 servings.
Huh?
Maybe I'm not making sense so I'd better explain myself.
Back in 1990 a young David Norris left university in the midst if a recession with limited career options. (Theology as a degree isn't exactly vocational unless you want to be a priest - and as an atheist I wasn't sure I could be convincing at interview). So, at the relatively young age of 21 I decided I still had time on my side and could do worse than follow my passion.
With student debt to forget, I took the train to Dover in early December, the ferry to Calais and a train to Paris. I muscled through the metro system in rush hour to get a night train south. I woke up in Bourg St Maurice in the French Alps with about £100 to my name and I took a bus to Val D'Isere with my backpack, ski boots, skis and a burning desire to find a way to stay there and ski for 5 months. Nothing else mattered.
I had the advantage of speaking some French. So I knocked on doors for 3 weeks asking for work. I found a place to stay during thus time, sharing an apartment for 3 with 10 other ski bum hopefuls. (Yes, it was smelly, messy and wild). I made friends and it was through a friend that I heard about a job in a restaurant kitchen. Lesson 1: networks bring opportunities.
As my credit card was maxing out I managed to persuade this restaurant to take me on. I was to be a "plongeur". And this is where the cheese fondue comes in. A plongeur is a kitchen assistant and wash up. They didn't know it when they hired me and I didn't know it either but they had just hired the best damn plongeur in history.
I was super motivated. I was getting to ski every single day. I would wake early, be on the first lift and ski to 3 or 4. Then, shower, change, snooze and get to work for 6. Because I wanted to be out early skiing the next day I wanted to fully optimise everything possible and be ready to leave work as soon as possible. The earliest was midnight. On a busy night it might even be 2am.
Yes - that really is me
Cheese fondue is served in a ceramic pot. It's mainly melted cheese with some wine and a few other secret ingredients. Dunk dried bread into the cheese. A local speciality. Indeed our restaurant was a local speciality restaurant. We served meat fondue, cheese fondue, raclette, steak tartare (raw minced beef steak) and other high protein feasts.
There were two chefs and myself in the kitchen, a waitress, the owner and his wife. On a busy night we would turn 100+ covers. The French chefs and I kept ourselves fired up with plenty of Dead Kennedys punk classics. They knew all the words.
I was paid about £150 a month. Accommodation included. I paid £60 a month for my season-workers lift pass, then I had some pocket money for ski servicing, beers and food. Slave labour. Loved it.
My main job, apart from washing up was to prepare the desserts. I was an expert at classic ice cream creations such as Banana Split, Peche Melba and Cafe Liegois. The cheese fondues would be stacking up as I prepared the desserts because of course, it's when the main course is brought in that the desserts are then ordered. It's a double whammy because not only have you got more washing up to do you have less time to do it because you're having to prep desserts. Actually, it was really a triple whammy because on a busy night I had to also keep the flow of the crockery and pots back into service. Doing that meant less time for desserts and even less time for washing up.
At 50 fondues a night the system (me) would go into meltdown. Even though I had perfected cleaning fondue pots with a scraper, I was struggling to get the pots back to the kitchen in time and do the desserts. By midnight I had the entire restaurant stock of pots, pans and crockery stacked up in a pile. It would be a long night.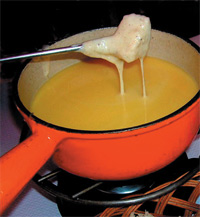 Try washing up 50 of these
I learnt a lot those 5 months that I have found useful at work ever since. The main lesson learned though is to watch out for triple whammies. As people add more tasks or projects to the mix they sometimes forget that gives them less time to do the same jobs they already have. Also, if volumes of transactions multiply at the same time they'll have even less time to do the second job and even less time to do the first job. Meltdown is always on the horizon.
So, in a growth company, my advice would be always to think about the proposed operational solution not only in the present, but in the future as well - and in a future where you are doing twice as much business.
Triple whammies happen all the time and when they do the only solution is to dig yourself out of a hole and fix the mess. By then you've probably caused some damage and you may have lost staff, customers or suppliers. That sucks.
You need to know how many cheese fondues is too many.